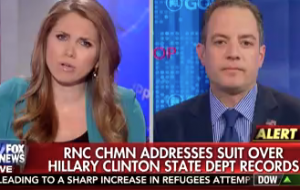 Today, the Republican National Committee sued to get ahold of emails from Hillary Clinton and her aides during her tenure as Secretary of State.  Her emails have been a hot topic for months and months now and it doesn't appear that we will stop hearing about them anytime soon. Here's proof: RNC Chairman Reince Priebus appeared on Fox's Happening Now today to discuss them further.
While he was there, host Jenna Lee didn't even let him catch a breath. She was throwing questions at him left and right. Check it out:
READ
Stevie J. Nightclub Brawl Footage Surfaces, Mimi Faust Responds to Shooting (VIDEO)
He explained that he RNC had filed the original request over six months ago. Because the law dictates that answers to informational requests be given within a "reasonable amount of time," Priebus and the RNC have sued on the grounds that the information should have been given out by now.
That seems simple enough, but Lee wasn't going to let him get off so easily. Watch above to see her question whether it is "utterly redundant" for the RNC to join other organizations like Judicial Watch and the FBI, who are "further ahead" than the Committee, in hammering Clinton for the emails.
READ
Video Appears to Show Trump Campaign Manager Reaching for Breitbart Reporter's Arm
He interrupted her, she interrupted him, and the whole thing was pretty intense.
[image via screengrab]
For more from Lindsey, .
Source
Fox's Jenna Lee Relentlessly Grilled Reince Priebus on the RNC's Clinton Email Lawsuits
For all other news on the Entertainment