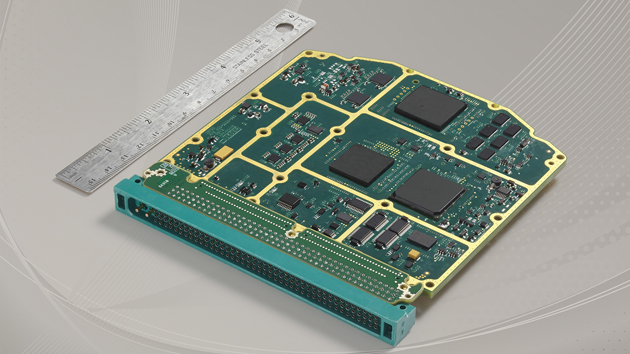 The M-Code receiver operates using a more powerful signal, resistant to cyber threats. Click to enlarge
Designed for fifth-generation aircraft
Receivers navigate using modernized GPS signals
New capabilities offer jamming resistance
CEDAR RAPIDS, Iowa (June 15, 2017) – Last month, Rockwell Collins delivered the last of a 770 Military-Code (M-Code) Global Positioning System (GPS) receiver order to the U.S. Air Force Space and Missile Systems Center (USAF SMC). Committed to the Military GPS User Equipment (MGUE) program, the M-Code receiver operates using a more powerful signal, resistant to cyber threats.
"From advanced fifth-generation aircraft to ground and maritime applications, this technology meets the warfighters' needs for reliable and secure GPS navigation for increased situational awareness," said Troy Brunk, vice president and general manager, Communication, Navigation & Electronic Warfare Systems for Rockwell Collins. "This delivery demonstrates a major advancement in military technology."
M-Code not only enhances traditional GPS for military use, but coexists with existing signals without interfering with current or future civilian or military user equipment. It is also designed to be autonomous so users can calculate their positions solely using the M-Code signal compared to existing signals where more than one signal code is required. M-Code receivers can be applied to new and retrofitted platforms.
Rockwell Collins began work on this MGUE contract in 2012. Created by USAF SMC, the program will enhance GPS capabilities for the warfighter where current signals may be unavailable. As part of the contract, the company developed, delivered and will aid in the transition to M-Code receivers, a process complemented by Rockwell Collins' decades of experience and expertise in modernization solutions.

About Rockwell Collins
Rockwell Collins (NYSE: COL) is a leader in aviation and high-integrity solutions for commercial and military customers around the world. Every day we help pilots safely and reliably navigate to the far corners of the earth; keep warfighters aware and informed in battle; deliver millions of messages for airlines and airports; and help passengers stay connected and comfortable throughout their journey. As experts in flight deck avionics, cabin electronics, cabin interiors, information management, mission communications, and simulation and training, we offer a comprehensive portfolio of products and services that can transform our customers' futures. To find out more, please visit www.rockwellcollins.com.